Puppy Pages: 1, 2, 3, 4, 5, 6, Gallery
Saturday night, September 27, 2003
Four lovely little girls and three little boys.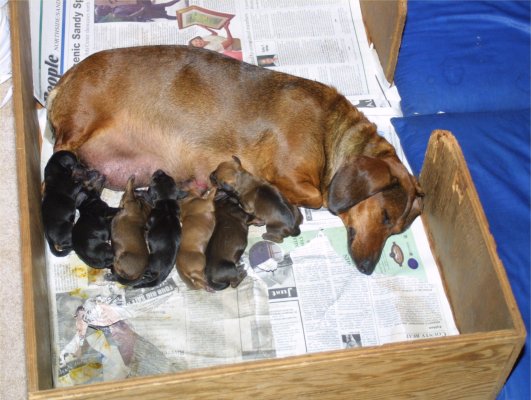 Brandy's Gift . . .
About once a year, Brandy favors the world with her beautiful gifts. [Fairness requires that I note that she had a little help from Baron. :-) ] The magic of her gifts is that they are beautiful when they arrive, bringing with them the wonder of new life. Then, they add to to that magic as they grow up and eventually take their loving warmth on to their new homes.
I had mentioned that this might be Brandy's last time for having puppies. Well, I think maybe she overheard me and decided to show me just how good she is at this puppy having business. A little before five in the evening, she began those tell-tale nesting activities, and a five minutes to five, a huge brown baby boy joined the world. Two girls and another boy came along in the next forty minutes, then she took a long rest. She even let Dad sneak into the box and check out his kids. By seven o'clock, she had added three more little darlin's to the pack. Seven puppies in just a little over two hours! Ok, Brandy, I never said you weren't good it; just thought you might like a little rest.
Brandy's gift to all of us is a new little pack of kids -- four girls and three boys. All beautiful pups -- naturally.
Watch them grow and enjoy the fun -- beginning at Pups2003, page 2.